JLM introduces Diesel DPF Spray J02220 (400ml)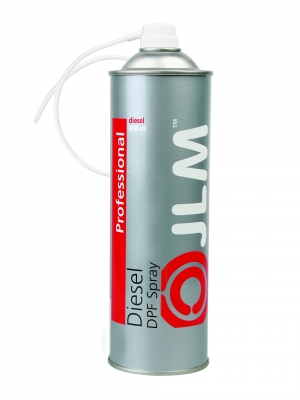 In view of increasing demand for fast-acting and effective cleaners for particulate filters (DPF), coupled with the attractive revenue model for retailers stocking this product, JLM is introducing the Diesel DPF Spray J02220. JLM Diesel DPF Spray for automotive professionals removes particulate, carbon and other deposits in dirty diesel particulate filters (DPF) quickly and effectively, without the need to dismantle the filter. 
Diesel DPF Spray is the fastest and cheapest way to help your client to get back on the road as soon as possible, whilst at the same time providing a sufficient profit margin in the workshop. Diesel DPF Spray J02220 is ideal for garages when they are presented with vehicles with an illuminated particulate filter warning light, or for vehicles that do not pass the particulate measurement test during MOT testing.
Vehicles that are used to make short journeys or are never or hardly ever driven on motorways do not become warm enough, which means that they regenerate (clean) the particulate filter poorly, or not at all in many cases. Diesel DPF Spray offers a solution for the engine symptoms of loss of power or increasing fuel consumption that is caused primarily by driving short distances. JLM Diesel DPF Spray restores the particulate filter's full capacity and ensures that exhaust gases can once again be expelled by the exhaust without any resistance. Spray JLM Diesel DPF Spray into the particulate filter prior to forced regeneration (by means of a test drive or OBD) to clean the filter and help the vehicle pass its tests.
Product information
JLM Diesel DPF Spray J02220 is a spray that comes in a handy aerosol can and contains a high concentration of active ingredients to clean and dissolve dirt. JLM Diesel DPF Spray cleans and regenerates dirty and blocked diesel particulate filters by reducing the combustion temperature of particulate, which means that it combusts earlier and faster at a lower engine temperature. JLM Diesel DPF Spray can be used in all old and new diesel engines in all vehicles with a particulate filter.
The contents of one can of JLM J02220 are sufficient to treat one particulate filter. JLM Diesel DPF Spray is non-flammable, contains no ash or metal and evaporates without leaving any residue. In the case of stubborn dirt, we recommend that the engine and the particulate filter are cleaned using the 
J02230/J02250 JLM DPF Cleaning Kit
.
Instructions for use

Bring the engine up to operating temperature and then switch it off

Remove the temperature sensor and/or pressure sensor

Insert the spray pipe with special nozzle into the opening facing the particulate filter

Spray the entire contents of the can into the diesel particulate filter

Fit the temperature sensor and/or pressure sensor

RECOMMENDATION: For best results, add JLM J02210 DPF Cleaner to the fuel tank after spraying in the DPF Spray and before regeneration

Regenerate the DPF using a diagnostics test or by taking the vehicle on a test drive

Check the engine management system for error codes and delete the codes if present 
 
Advantages
Fast cleaning and regeneration

Fast and effective cleaning of the particulate filter without dismantling

Extends the service life of the particulate filter

Reduces fuel consumption

Short workshop visit

Lower repair costs